We're quickly heading toward fall, and we don't know about you, but the cooler temperatures and changing leaves have us excited to spend some time in the great outdoors. If you're thinking of packing up the car or camper, brush up on these safety tips and get prepared for a perfect camping trip before you go.
Plan ahead and prepare for the unexpected. 
It may sound obvious, but when you've had a camping trip planned for weeks, you may forget to check the weather forecast before heading out. Spending your camping trip battling rain or wind is not only no fun, but it can also be dangerous. If the weather looks severe, it's probably better to postpone the trip, or at least have a backup plan in case you have to seek shelter. Make sure you bring appropriate gear and clothing based on predicted conditions. 
Before you leave, you'll also want to familiarize yourself with the campground and surrounding area. Make your whole group aware of campground rules, dos and don'ts. Get clear on the physical activities you're planning to do and make sure you have the proper equipment – such as sturdy shoes for hiking or life jackets for water activities. Bring enough water for drinking, cleaning and extinguishing camp fires – especially if you won't have a water hookup at your campsite.
Be sure to pack a first aid kit and plenty of sunscreen and sunglasses or hats to protect from sunburn – remember, the sun's rays can reach you even on a cloudy day. Don't forget insect repellent, and if you're going to be in the woods, you may want to wear long sleeves and pants regardless of the temperature. Make sure to check yourself for ticks daily while you're spending time outdoors. 
Secure your valuables – or leave them behind. 
When you go camping, it's usually best to leave your valuable jewelry and electronics safely at home. Camping is all about disconnecting anyway, right? If you are bringing along pricy equipment like kayaks or fishing poles, make sure to secure them in your car or camper when you're not using them.
Always be aware of fire safety. 
One of the best parts of camping is sitting around the campfire, but just like in any other situation that involves fire, you need to be alert and aware of fire safety precautions. Kampgrounds of America recommends that campfires should be at least 15 feet from tent walls, shrubs, and trees. Never leave a fire unattended – you should always keep an eye on your campsite fire while it's burning. Always have a water source nearby in case of an emergency, and when you do put out the fire before leaving or going to sleep, be sure it's completely extinguished by thoroughly drenching the entire fire with water – not just the red glowing embers.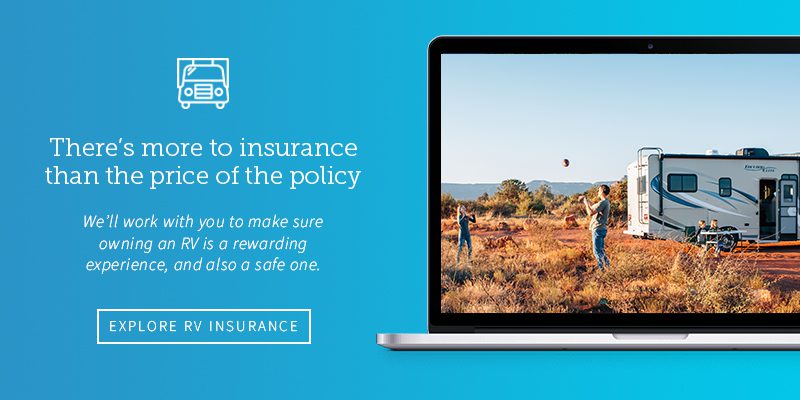 If you're traveling in a motorhome or RV, make sure you have the right coverage.
For those of us who love the outdoors but don't love sleeping in a tent, traveling with a recreational vehicle (RV) is a great option. However, the freedom of the motorhome comes with some additional considerations.
You may think that RV insurance is just like ordinary auto insurance, but you may want to consider getting a specialized policy. There are certain coverages specific to RVs, such as windshield replacement – fitting such a large piece of glass and working with a specialized supplier means a significant cost when compared to repairing an auto windshield. Other specific allowances on the policy can include the cost of replacing awnings and gas bottles. 
Additionally, RV insurance often includes enhanced coverage for personal possessions, allowing you to confidently take your gadgets with you on the road. We recommend you look for a policy that covers theft in addition to damage from a collision or fire, as well as one that will cover your rental car and/or accommodations if your camper is out of commission during a trip. If you have questions about RV insurance, we're happy to help – just fill out the form below to start the conversation.
Now that you're ready to safely head out on your fall camping trip, enjoy your time with family and friends and soak up all that nature has to offer. Don't forget the marshmallows!